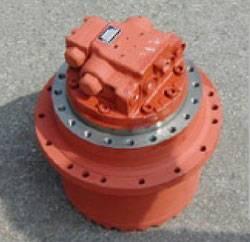 Final Drives, Travel Motors, Planetary Assemblies
1-800-404-6937
FINAL DRIVE, TRAVEL MOTOR,
PLANETARY ASSEMBLIES
WE HAVE NEW COMPLETE FINAL DRIVE ASSEMBLIES AVAILABLE
FOR MOST MINI EXCAVATORS.
ALL WE NEED IS THE:
(1) MACHINE MAKE, AND MODEL
(2) MACHINE SERIAL NUMBER
(3) TAG NUMBERS OFF THE FINAL DRIVE
PLEASE LOOK AT THE PICTURE ABOVE, YOU CAN SEE A METAL TAG THAT WE WILL NEED ALL THE LETTERS AND NUMBERS ON THAT TAG. THE TAG IS ON THE HYDRAULIC MOTOR PORTION.